We are serious exhibitors here at SugarLamb and show in All Breed and Specialty shows in Canada and the U.S.A. We enjoy handling our own dogs in the show ring and rely on our capable assistants when we need an extra hand.
We are enjoying our latest bred dogs. On our first outing in 2013 and we won a Major going BOS (Best Opposite Sex) over three Specials at the Detroit Kennel Club. Our second outing to APC Nationals in Kentucky earned a nice placement for Brinkley.

Check out the latest Show News HERE

Our latest Canadian Champions and US Champions are located HERE.
In 2012 we finished two American Championship titles on our Bred By dogs RYDER and GAGE. We earned both required Major wins on "Can CH Pixie's Memorabilia at Panache" "PIXAL" who is co-owned with our friend Laura Meineke of Panache Poms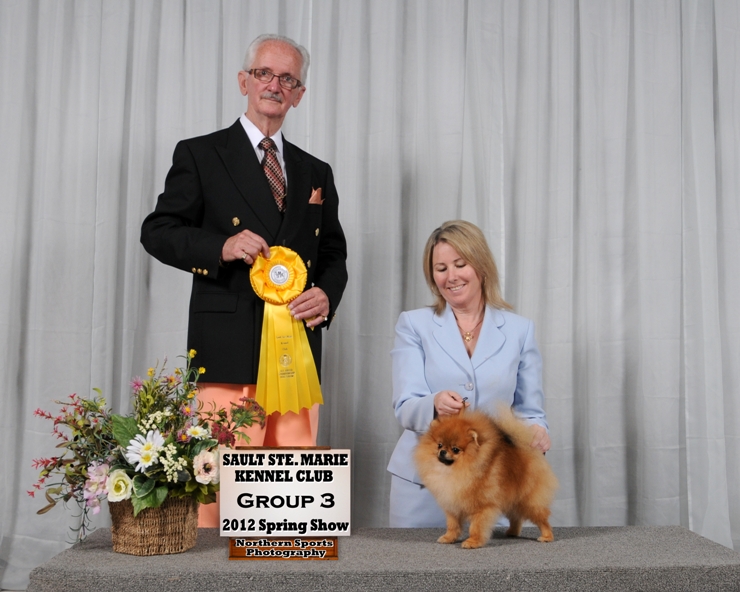 GAGE IS OUR LATEST BRED BY AMERICAN CANADIAN CHAMPION AND SIRED BY #1 Brazilian Pomeranian in 2011 and 2012 "HUDSON"

BIS AM CAN BRAZIL CH SUGARLAMB'S FIRST RULE HAVE FUN. And CH SUGARLAMB'S NEXT TOP MODEL have given us a wonderful little male to add to our studs
AM/CAN CH SUGARLAMB'S RULES OF ENGAGEMENT
We have had an outstanding year in 2012 with Gage at limited showings. We started the summer off with the PCOO Pomeranian Specialty and won AOM breeder/owner handled. We went onto the next Specialty in July and at our Canadian Nationals we again won the AOM. Gage was shown by my good friend Cynthia Dyson (Daiquar Peke's)

We look forward to many more rewarding wins from this outstanding boy in 2013